28.04.2020 | Ausgabe 6/2020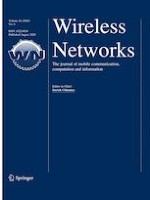 Multi-objective optimization framework complying IEEE 802.15.6 communication standards for wireless body area networks
Zeitschrift:
Autoren:

Amit Choudhary, M. Nizamuddin, Manish Zadoo, Vibhav Kumar Sachan
Wichtige Hinweise
Publisher's Note
Springer Nature remains neutral with regard to jurisdictional claims in published maps and institutional affiliations.
Abstract
Wireless body area network (WBAN) routing protocols are primarily designed for improvement of network performance parameters such as network lifetime, throughput and latency. However, these designs do not take into account the health hazards posed due to WBAN radiation. The focus of implementing IEEE 802.15.6 standards is to develop an energy-efficient, reliable and health-conscious wireless communication system around human body. This paper presents the implementation of a clustering-based routing protocol for WBAN that targets in achieving overall optimization of WBAN performance parameters including network lifetime, throughput, latency, node signal power and specific absorption rate (SAR) of human body for emf radiation. The suggested protocol applies a multi-objective NSGA-II optimization heuristic for cluster formation while taking into account various IEEE 802.15.6 standard constraints. A unique chromosome structure has been proposed for NSGA-II population in which each chromosome represents a random network topology for determining the node clusters, cluster heads and node transmission power. Furthermore, three system-level models for conducting multi-objective fitness evaluation of each chromosome have been proposed. These models predict the global transmission energy consumption; the average received signal strength (RSSI) and end to end network latency respectively. The developed NSGA-II model evolves into a non-dominated set of Pareto-optimal network topologies that renders the desired objectives of minimization of network energy consumption and network latency besides maximization of average RSSI. Enhancement in RSSI further leads to a tremendous improvement in the throughput rate. The node transmission power specifications of Pareto-optimal network topologies meet the standard SAR constraints too. The performance results shows that the suggested protocol strictly meets IEEE 802.15.6 compliance.