01.06.2019 | Ausgabe 6/2019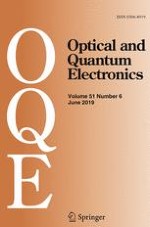 Multi-rate OCDMA system BER performance evaluations for different ML-code sequences
Zeitschrift:
Autoren:

M. A. Morsy, Abdulaziz S. Alsayyari
Wichtige Hinweise
Publisher's Note
Springer Nature remains neutral with regard to jurisdictional claims in published maps and institutional affiliations.
Abstract
This paper analyzes Bit Error Rate (BER) of Optical Code Division Multiple Access (OCDMA) networks for different class of services which are data, voice, and video; whereas Multi-Length Weighted Modified Prime Code (ML-WMPC) sequences are utilized as a spreading code in with respect to previously used ML-Optical Orthogonal codes. Due to variations in bit rates between the mentioned services, each of them assigns a different WMPC sequence length. In addition, the shot noise, thermal noise, and the Multiple Access Interference (MAI) are included and considered as sources of noise in the BER performance analysis. Furthermore, Pulse Position Modulation, Manchester encoding and MAI cancellation (MAIC) technique are utilized to improve the network performance at a higher number of active users. For analysis, the BER performance calculations are investigated for three types of OCDMA receivers such as simple receiver, receiver with MAIC technique, and receiver with MAIC and Manchester encoding. Moreover, the BER mathematical models have been introduced for different bit rates according to the type of service in the presence of the ML-WMPC and the last of three mentioned OCDMA receivers. Finally, these models and their results are compared with the other existing models, where the results show an improvement in BER performance in the proposed approach.