2021 | OriginalPaper | Buchkapitel
Multi-scale Flight Path Planning for UAS Building Inspection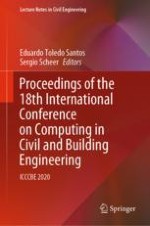 Erstes Kapitel lesen
Autoren: Paul Debus, Volker Rodehorst
Abstract
Unmanned aircraft systems (UAS) show large potential for the construction industry. Their use in condition assessment has increased significantly, due to technological and computational progress. UAS play a crucial role in developing a digital maintenance strategy for infrastructure, saving cost and effort, while increasing safety and reliability. Part of that strategy are automated visual UAS inspections of the building's condition. The resulting images can automatically be analyzed to identify and localize damages to the structure that have to be monitored. Further interest in parts of a structure can arise from events like accidents or collisions. Areas of low interest exist, where low resolution monitoring is sufficient.
From different requirements for resolution, different levels of detail can be derived. They require special image acquisition parameters that differ mainly in the distance between camera and structure. Areas with a higher level of detail require a smaller distance to the object, producing more images.
This work proposes a multi-scale flight path planning procedure, enabling higher resolution requirements for areas of special interest, while reducing the number of required images to a minimum. Careful selection of the camera positions maintains the complete coverage of the structure, while achieving the required resolution in all areas. The result is an efficient UAS inspection, reducing effort for the maintenance of infrastructure.