2020 | OriginalPaper | Buchkapitel
15. Multicomponent Force and Moment Transducers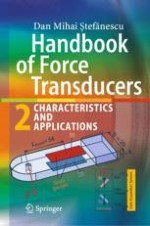 Erstes Kapitel lesen
Autor: Dan Mihai Ştefănescu
Abstract
The measurement of forces, anywise oriented in space, and resolvable into the main six components of the force tensor, namely, three perpendicular forces (
F
x
,
F
y
and
F
z
) and three corresponding moments (
M
x
,
M
y
and
M
z
), arises from definite scientific, industrial and metrological requirements. OXYZ axes system is used according to the "right-hand rule", i.e. "Z takes X over Y"! Colours chosen by us for the three axes (X—red, Y—green, Z—blue) are the same as those of the ANSYS finite elements program. Multicomponent force/moment transducers are traditionally calibrated by using forces and torques generated by deadweights and levers, or by comparing measurements with reference transducers. In the revised version of the SI, the Kibble balance principle is adapted for the traceable force and torque measurement in three orthogonal directions by means of the Planck's constant
h
, the speed of light in vacuum
c
and the hyperfine transition frequency of Cs Δ
ν
Cs
.