11.02.2017 | Methodologies and Application | Ausgabe 8/2018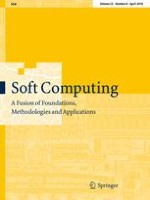 Multidimensional knapsack problem optimization using a binary particle swarm model with genetic operations
Zeitschrift:
Autoren:

Luis Fernando Mingo López, Nuria Gómez Blas, Alberto Arteta Albert
Abstract
Particle swarm optimization is a heuristic and stochastic technique inspired by the flock of birds when looking for food. It is currently being used to solve continuous and discrete optimization problems. This paper proposes a hybrid, genetic inspired algorithm that uses random mutation/crossover operations and adds penalty functions to solve a particular case: the multidimensional knapsack problem. The algorithm implementation uses particle swarm for binary variables with a genetic operator. The particles update is performed in the following way: first using the iterative process (
standard algorithm
) described in the PSO algorithm and then using the best particle position (
local
) and the best global position to perform a random crossover/mutation with the original particle. The mutation and crossover operations specifically apply to personal and global best individuals. The obtained results are promising compared to those obtained by using the probability binary particle swarm optimization algorithm.