2015 | OriginalPaper | Buchkapitel
Multimedia Recommendation and Delivery Strategies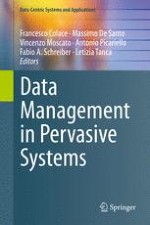 Erstes Kapitel lesen
Autoren: Ruggero G. Pensa, Antonio Penta, Maria Luisa Sapino
In the last decade, the spread of broadband Internet connections even for mobile devices has contributed to an increased availability of multimedia information on the Web. At the same time, due to the decrease of storage cost and the increasing popularity of storage services in the cloud, the problem of information overload has become extremely serious even in personal/company archives. The need to manage, retrieve, and present all these data has promoted the development of advanced multimedia information systems, which include recommendation modules to account for the requests of personalized data selection and presentation. Recommendation systems estimate
ratings
, or
utilities
, which quantify users' degree of interest for the different available data, so that the data can be offered to the users in a personalized way, in decreasing order of interest. Multiple approaches have been proposed in the literature to estimate such degrees of interest. In
content-based filtering,
the utility (for a user) of a given item is estimated as a function of the ratings given by the same user to other similar items. A dual approach is
collaborative filtering
, in which filtering (i.e., estimating the object's utilities) for a given user is computed by referring to the opinions of other similar users. Thus, a major challenge faced by collaborative filtering is the need to associate each user to a set of other users having similar profiles. In this chapter, we first present the
co-clustering-based recommendation techniques
, which allow to combine heterogeneous multimedia content information and data about the users' preferences and rankings, thus overcoming some of the content-based filtering drawbacks, as well as some collaborative filtering weaknesses. Then, we briefly discuss the challenges in multimedia delivery and the most common strategies adopted in the context of cultural heritage media delivery.