2010 | OriginalPaper | Buchkapitel
Multiphase Flows: Compressible Multi-Hydrodynamics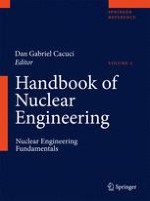 Erstes Kapitel lesen
Autoren: Daniel Lhuillier, Theo G. Theofanous, Meng-Sing Liou
Verlag: Springer US
Abstract
Effective field modeling of two-phase flow has provided a critical part of the foundation upon which light water (power) reactor technology was made to rest some 20-30 years ago. We can envision a similarly significant role in the future as simulation capabilities are poised to meet new kinds of practical demands at the interplay between economics, safety assurance, and regulatory needs. These new demands will require better predictive reliability for larger departures from past practices, and this in turn will require strengthening of the scientific component along with translating past empiricism into more and more fundamental terms. In this perspective, the mathematical formulation of the effective field model, as well as the numerical implementation of this formulation needs to be revisited and reassessed. Helping respond to this need is the purpose of this chapter.
We delineate a conceptual framework for addressing prediction of multiphase flows at the three-dimensional, phase distribution level. This is in terms of a local, disperse system description (bubbles/drops in a continuous liquid/vapor phase). The requirement that follows is a well-posed formulation and a high-fidelity numerical treatment that allows capturing of shocks and contact discontinuities over all (relative) flow speeds, consistently with what is physically allowable according to the density ratios involved — in particular, high relative Mach numbers for droplet/particle flows. The importance of inviscid interactions (between the phases) in this context is highlighted.
The scope is for disperse-phase volume fractions up to about 20% as pertinent to fluid-fluid systems. This provides the basis for addressing phase transitions through coalescence as this process becomes significant at still higher volume fractions. The theoretical framework provides also the basis for extensions (outlined only in general terms here) to the high-volume fractions pertinent to dense solid-particle systems. The computational approach is readily applicable to both these extensions.
A general disperse system formulation is derived by means of a new, "hybrid" method that incorporates features of a statistical approach and reveals more clearly the nature of phase interactions at the individual particle scale. Moreover in this manner the formulation lends itself to elaboration of the constitutive treatment by means of numerical simulations (based on the direct solution of the Navier-Stokes equations) resolved at the particle scale. The formulation is exemplified by successive applications to various increasingly complex situations, starting with non-dissipative systems, where one or the other phase may be incompressible. At each step we examine the hyperbolic character of the system of equations, and we include consideration of high (relative) Mach numbers. The basic constitutive treatment concerns pseudo-turbulent fluctuations of the continuous phase, and the resulting systems of equations are fully closed and hyperbolic even in their non-dissipative form (ready for computation), except for a non-hyperbolic corridor around the transonic region. Results obtained are discussed in relation to formulations that form the basis of current numerical tools (codes) employed in nuclear reactor design and safety analyses (mostly addressing bubbly flows), as well as formulations found in other contexts.
This mathematical formulation is pursued further to its numerical implementation. With an emphasis on flow compressibility, we focus on capturing shocks and contact discontinuities robustly for all flow speeds and at arbitrarily high spatial resolutions. As we learn from relatively recent progress in single-phase flows, the key role is that of "up-winding" applied on the basis of a scheme that emphasizes conservative discretization. This background is briefly reviewed, culminating with a rather detailed exposition of the most recent advance in this line of development: the Advection Upstream Splitting Method (AUSM). The essential and new step here is to extend the basic ideas of the AUSM to the compressible multi-hydrodynamics problems of interest here, and the above-mentioned EFM in particular. We also include calculations illustrative of numerical performance.
The presentation is arranged into two autonomous parts: Part I addresses the formulation of the EFM and Part II deals with the numerical implementation and testing. An overall summarization of where we stand at the completion of this work and what we see as needed future developments is provided in the following.
One basic objective was to address inviscid interactions by means of a coherent theoretical formulation and through to computational testing. In particular, we wanted to access high-fidelity simulations of the type needed to address flow regimes at all flow speeds; especially at the high relative Mach numbers pertinent to disperse particle/droplet flows. This requires that the system of equations be hyperbolic, and we wanted to achieve a solid foundation rather than adopting any of the several ad hoc constitutive models as post facto "remedying" the problem.
On theory, we begin with entropy rather than energy transport equations and we derive, consistently with thermodynamics and the momentum equations, a condition for satisfying conservation of total energy. This condition is of utmost importance showing the tight link between the conservation laws employed, and the transport equations of volume fraction and of pseudo-turbulent kinetic energies of the continuous (included) and disperse (not yet included in the derivation) phases. On this basis we demonstrate a systematic way to deduce closed systems of equations for non-dilute disperse flows, and thusly we arrive at an EFM that is hyperbolic except for a "corridor" around the transonic region. The key is a function of the disperse phase volume fraction
E
(
α
d
). It enters as a coefficient of the disperse phase pseudo-turbulent kinetic energy. Awaiting further definition as a function of the Mach number, by means of the type of direct simulations noted above, it is employed here throughout in its zero-Mach form. A much needed extension would also involve the pseudo-turbulent kinetic energy of the disperse phase, along with physics of dense dispersions (collisions etc.).
While terms such as those proposed previously for "interfacial pressure" and "added mass" phenomena can be identified, the complete formulation is not reducible to any of those ad hoc models. Notably, the disperse phase pressure appears nowhere in the momentum equations. Also we find that the claimed as hyperbolic, Baer-Nunziato model involves a volume fraction transport equation, which is not physically tenable for dispersions, or is it an appropriate means to dealing with ill-posedness. On the other hand, we find perfect agreement with the formulations obtained at the incompressible limit by Geurst (
1985
), employing a complex variational approach, and by Wallis (
1989
), employing a rather involved development based on potential flow theory.
On computations our objective is to capture shocks and contact discontinuities, for conditions that are within the hyperbolic regions in the Mach number space, and to explore (1) behaviors within the non-hyperbolic corridor, and (2) means of stabilization as necessary. Given the EFM development needs expressed above, it is understood that this testing in the Mach number space is strictly provisional. We begin with an adaptive mesh refinement infrastructure, and the Advection Upstream Splitting Method (AUSM), currently the method of choice for single-phase compressible flows. A key point of adaptation to our EFM is treating the pseudo-turbulent stresses within the pressure flux splitting, and ensuring that the discretization of the nonconservative terms is done in a way that satisfies propagation of contact discontinuities in uniform steady flow without disturbing the pressure field. Our approach is readily extendable to any equation of state and to adding any number of equations (volume fraction transport, multiple equations for the disperse phase for tracking multiple length scales as may be found when the disperse phase is subject to fragmentation). The testing performed for this work was done on 1D problems only. Extending this testing to 2D and 3D problems is underway.
Testing was carried out independently with two computer codes: ARMS (all-regime multiphase simulation) and MuSiC-ARMS (Multi-scale Simulation Code-ARMS). The ARMS was built on an open access platform, the structured adaptive mesh refinement infrastructure (SAMRAI) developed at Lawrence Livermore National Laboratory. The MuSiC-ARMS was built, more recently, on the MuSiC platform, our own specialized code, using irregular grids to "fit" areas of highest refinement (shocks, interfaces, etc.), which are embedded in a multilevel (adaptive) Cartesian mesh. This platform is also used for a DNS code, the MuSiC-SIM, and a pseudo-compressible (incompressible) code, the MuSiC-ISIM. We focus on dispersed being the heavy phase (droplet/particle flows) so as to access realistically high Mach numbers, and significant inviscid interactions.
The test cases were selected to include various kinds of Riemann problems with discontinuities in (a) Mach number only (Fitt's problems) and (b) pressure, or pressure and disperse phase volume fraction (shock tube problems). In the Fitt's problem case, we include parametric studies on the value of C that appears in function
E
(
α
d
). In addition, we consider shock wave "impact" problems on particle clouds that are either with sharp or smooth (in particle volume fraction) outer boundaries, and as part of this class also the case of dilute clouds for which we have the analytic solution for comparison. Finally, we considered the capturing of contact discontinuities in "mild" situations such as the so-called Faucet problem and the simple convection of a coherent second phase by uniform flow. The Faucet problem is well known to be failed under grid refinement in all published tests to date. The convection problem is important check of the pressure non-disturbing condition, a requirement that is hard to meet due to the non-conservative terms found in all effective field models.
The emphasis being on stability and convergence under grid refinement, all problems were carried out in the inviscid limit (no interfacial drag), and all cases passed the test except for the high pressure ratio shock tube problems where instabilities developed within the expansion wave. However, these cases were stabilized with a minimal amount of dissipation effected by adding a small amount of interfacial drag (roughly one tenth of the normal amount). These numerical results render support to the idea that, notwithstanding the "mild" non-hyperbolic corridor found in the analysis of Part I, the present effective field model is hyperbolic, and along with the numerical treatment employed they provide access to rather extreme two-phase flow conditions in a robust and accurate manner.
In an overall perspective of computational fluid dynamics, the presently offered capability is complementary to that already available through the "standard", non-hyperbolic two-fluid model as already found in the computational frameworks of the ICE (Harlow and Amsden
1968
) and SIMPLE (Patankar and Spalding
1972
) methods. The special purposes aimed here are to overcome limitations in grid refinement and to approach flows where the phasic-relative velocities are high enough to introduce significant compressibility effects. Rapid advancement in hardware makes computational analysis of complex multiphase flows, even direct numerical simulations, increasingly more practical and reliable. High-fidelity/resolution techniques such as those employed here can address problems of varying time and length scales and this paves the way for actual simulations of multiphase physics at the effective field level, and even allowing a seamless analysis transitioning across regimes of multiphase flows.