01.06.2015 | Ausgabe 1/2015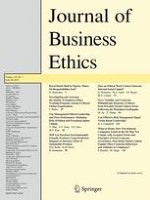 Multiple Facets of Compassion: The Impact of Social Dominance Orientation and Economic Systems Justification
Zeitschrift:
Autoren:

Daniel Martin, Emma Seppala, Yotam Heineberg, Tim Rossomando, James Doty, Philip Zimbardo, Ting-Ting Shiue, Rony Berger, YanYan Zhou
Abstract
Business students appear predisposed to select disciplines consistent with pre-existing worldviews. These disciplines (e.g., economics) then further reinforce the worldviews which may not always be adaptive. For example, high levels of Social Dominance Orientation (SDO) is a trait often found in business school students (Sidanius et al., Political Psychol 12(4):691–721,
1991
). SDO is a competitive and hierarchical worldview and belief-system that ascribes people to higher or lower social rankings. While research suggests that high levels of SDO may be linked to lower levels of empathy, research has not established the potential relationship between another related adaptive trait in the workplace, compassion. Compassion facilitates workplace performance by lowering levels of litigation, easing stress, and facilitating cooperation. Accordingly, the following study aimed to examine the relationship between SDO and compassion while hypothesizing Economic Systems Justification (ESJ) would mediate this relationship. Because of the importance of compassion in the workplace, the prevalence of SDO in the business academic community (Sidanius et al.
1991
) and the topicality of ESJ, we conducted our study with business school students. Results confirmed all but one hypothesis.