01.07.2013 | Applicable mathematics in biological | Ausgabe 1-2/2013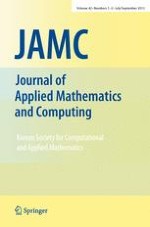 Multiple positive periodic solutions for an
n

-species competition predator-prey system on time scales
Zeitschrift:
Autor:

Dongshu Wang
Wichtige Hinweise
Project is supported by the Natural Science Foundation of Overseas Chinese Affairs of the State Council (No. 09QZR10).
Abstract
In this paper, we consider an
n
-species competition predator-prey system on time scales with Holling-type II functional response and multiple exploited (or harvesting) terms, which contains
n
−1 competing preys and one predator. By using the continuation theorem based on Gaines and Mawhin's coincidence degree theory, easily verifiable criteria are established for global existence of multiple positive periodic solutions to the above system. In addition, our results generalize the corresponding results of Zhang and Hou (Nonlinear Anal. (RWA) 11:1560–1571,
2010
), Fan and Wang (J. Math. Anal. Appl. 262:179–190,
2001
), Ding and Lu (Appl. Math. Model. 33:2748–2756,
2009
).