01.09.2015 | Regular Paper | Ausgabe 3/2015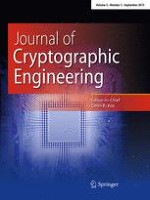 Multiprecision multiplication on AVR revisited
Zeitschrift:
Autoren:

Michael Hutter, Peter Schwabe
Wichtige Hinweise
The work was done while Michael Hutter was with Graz University of Technology, Austria. This work was supported by the Austrian Science Fund (FWF) under the Grant number TRP251-N23, by the Netherlands Organisation for Scientific Research (NWO) through Veni 2013 project 13114, and by the European Cooperation in Science and Technology (COST) Action IC1204 (Trustworthy Manufacturing and Utilization of Secure Devices-TRUDEVICE). Part of the work was done while the authors visited Academia Sinica, Taiwan. They wish to thank Bo-Yin Yang for his hospitality. Permanent ID of this document:
102fe77c6d1003e5694ac04543a52410
.
Abstract
This paper presents new speed records for multiprecision multiplication on the AVR ATmega family of 8-bit microcontrollers. For example, our software takes only 1,969 cycles for the multiplication of two 160-bit integers; this is more than 15 % faster than that demonstrated in previous work. For 256-bit inputs, our software is not only the first to break through the 6,000-cycle barrier; with only 4,771 cycles it also breaks through the 5,000-cycle barrier and is more than 21 % faster than previous work. We achieve these speed records by carefully optimizing the Karatsuba multiplication technique for AVR ATmega. One might expect that subquadratic-complexity Karatsuba multiplication is only faster than algorithms with quadratic complexity for large inputs. This paper shows that it is in fact faster than fully unrolled product-scanning multiplication already for surprisingly small inputs, starting at 48 bits. Our results thus make Karatsuba multiplication the method of choice for high-performance implementations of elliptic-curve cryptography on AVR ATmega microcontrollers.