11.04.2020 | Original Research | Ausgabe 9/2020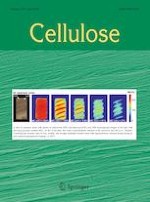 Multiscale cellulose based self-assembly of hierarchical structure for photocatalytic degradation of organic pollutant
Zeitschrift:
Autoren:

Lingfeng Yan, Baojiang Liu, Weiya Li, Tao Zhao, Yatao Wang, Qiangqiang Zhao
Wichtige Hinweise
Publisher's Note
Springer Nature remains neutral with regard to jurisdictional claims in published maps and institutional affiliations.
Abstract
The treatment of wastewater generated by textile industry has attracted researchers' attentions, and photocatalysis is considered as a good strategy to solve this problem because of the strong redox capacity. Herein, a novel visible light-responsive cotton-PPy-MWCNTs-BiVO4 photocatalytic material with the hierarchical structure was successfully prepared by a simple layer assembly method. The composite material has excellent degradation performance for reactive brilliant blue (RB-19) dye solution, and the degradation efficiency can reach 97.8% under visible light irradiation for 2 h. The performance improvement is mainly ascribed to the interaction between polypyrrole (PPy) and multi-walled carbon nanotubes (MWCNTs) in the system, where PPy can efficiently transfer holes and MWCNTs can separate electrons, thereby greatly speeding up the separation of photogenerated carriers. The loading of BiVO4, PPy and MWCNTs on cotton fabrics exhibits better stability and recyclability than traditional powdery photocatalysts. In sum, this paper provides a feasible idea for the application of flexible cellulose-based photocatalytic materials.