22.07.2021 | Original Research Article | Ausgabe 10/2021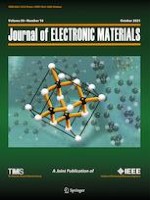 Multivariate Analysis of a Cobalt Octaethyl Porphyrin-Functionalized SWNT Microsensor Device for Selective and Simultaneous Detection of Multiple Analytes
Zeitschrift:
Autoren:

Sumedh M. Shirsat, Gajanan A. Bodkhe, Minakshi M. Sonawane, Bharti W. Gawali, Mahendra D. Shirsat
Wichtige Hinweise
Sumedh M. Shirsat and Gajanan A. Bodkhe have contributed equally to this work.
Publisher's Note
Springer Nature remains neutral with regard to jurisdictional claims in published maps and institutional affiliations.
Abstract
Multivariate analysis is carried out for single-walled carbon nanotubes (SWNTs) functionalized with a cobalt octaethyl porphyrin (CoOEP) chemiresistive sensor device for selective and simultaneous detection of multiple analytes. The chemiresistor was prepared on Si/SiO
2
substrate with photolithographically patterned gold microelectrodes having a 3-µm gap. SWNTs were aligned dielectrophoretically and functionalized with CoOEP by drop-casting. The aligned and CoOEP-functionalized SWNTs were characterized with electrical (
I
–
V
method), structural, spectroscopic, and morphological techniques, and sensor performance was investigated in a chemiresistive sensing modality. The fabricated sensor shows response towards acetone, dichloromethane, methyl ethyl ketone, ethanol, and methanol, with a lower detection limit of 5 ppm, which is far below the OSHA permissible exposure limit for each analyte, and demonstrates fast response and recovery. The multivariate analysis viz. principal component analysis and linear discrimination analysis reveals high discriminating capability of SWNTs functionalized with the CoOEP chemiresistive sensor towards these analytes, which could be used as an intelligent electronic nose (E-nose). This type of intelligent E-nose can address the crucial need for monitoring environmental pollution in industries, homes, buildings, etc.