31.05.2016 | Ausgabe 4/2016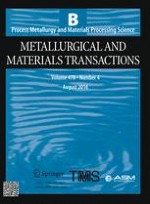 Multivariate Analysis of Ladle Vibration
Zeitschrift:
Autoren:

Jaefer Yenus, Geoffrey Brooks, Michelle Dunn
Wichtige Hinweise
Manuscript submitted March 25, 2016.
Abstract
The homogeneity of composition and uniformity of temperature of the steel melt before it is transferred to the tundish are crucial in making high-quality steel product. The homogenization process is performed by stirring the melt using inert gas in ladles. Continuous monitoring of this process is important to make sure the action of stirring is constant throughout the ladle. Currently, the stirring process is monitored by process operators who largely rely on visual and acoustic phenomena from the ladle. However, due to lack of measurable signals, the accuracy and suitability of this manual monitoring are problematic. The actual flow of argon gas to the ladle may not be same as the flow gage reading due to leakage along the gas line components. As a result, the actual degree of stirring may not be correctly known. Various researchers have used one-dimensional vibration, and sound and image signals measured from the ladle to predict the degree of stirring inside. They developed online sensors which are indeed to monitor the online stirring phenomena. In this investigation, triaxial vibration signals have been measured from a cold water model which is a model of an industrial ladle. Three flow rate ranges and varying bath heights were used to collect vibration signals. The Fast Fourier Transform was applied to the dataset before it has been analyzed using principal component analysis (PCA) and partial least squares (PLS). PCA was used to unveil the structure in the experimental data. PLS was mainly applied to predict the stirring from the vibration response. It was found that for each flow rate range considered in this study, the informative signals reside in different frequency ranges. The first latent variables in these frequency ranges explain more than 95 pct of the variation in the stirring process for the entire single layer and the double layer data collected from the cold model. PLS analysis in these identified frequency ranges demonstrated that the latent variables of the response and predictor variables are highly correlated. The predicted variable has shown linear relationship with the stirring energy and bath recirculation speed. This outcome can improve the predictability of the mixing status in ladle metallurgy and make the online control of the process easier. Industrial testing of this input will follow.