14.02.2020 | Methodologies and Application | Ausgabe 17/2020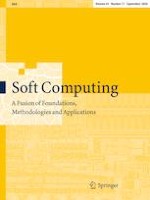 Multivariate bounded support Laplace mixture model
Zeitschrift:
Autoren:

Muhammad Azam, Nizar Bouguila
Wichtige Hinweise
Publisher's Note
Springer Nature remains neutral with regard to jurisdictional claims in published maps and institutional affiliations.
Abstract
In this paper, bounded Laplace mixture model (BLMM) is proposed. The parameters of proposed model are estimated by maximum likelihood approach via expectation maximization and Newton–Raphson algorithm. The model is proposed for data modeling to perform clustering using synthetic data for univariate and multivariate examples and real datasets of different medical experiments. BLMM is validated through correctness of estimated parameters for synthetic data and clustering accuracy of medical datasets. A new modeling scheme is also introduced for wavelet coefficients which is based on BLMM. It is applied to image clustering and content-based image retrieval (CBIR) for feature extraction in wavelet domain. For feature extraction in this application, each image is decomposed into a set of wavelet subspaces and BLMM with two components is adopted to model the statistical characteristics of the wavelet coefficients for each wavelet subspace. The model parameters adapted from BLMM represent the image features in wavelet domain for each subspace and selected to formulate the feature space which is further used in clustering and CBIR. In the framework for clustering and image retrieval, features extracted in wavelet domain are further modeled through BLMM to categorize images into different groups and trained model is adopted for CBIR. In order to perform image retrieval with trained model via BLMM, city block distance, posterior probability and Kullback–Leibler divergence are introduced. We also propose a novel solution to compute Kullback–Leibler divergence which is very effective for image retrieval due to its low computational complexity and high retrieval rate. The effectiveness and viability of BLMM in texture image clustering and CBIR are demonstrated through UIUC, KTH-TIPS, DTD, STex and Kylberg databases. Different experiments are performed in the chosen applications, and from the results, BLMM has demonstrated its effectiveness in modeling synthetic data, real datasets from medical experiments, feature extraction in wavelet domain, image clustering and CBIR.