23.12.2019 | Methodologies and Application | Ausgabe 15/2020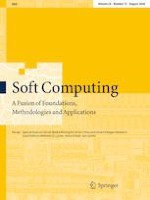 Multivector particle swarm optimization algorithm
Zeitschrift:
Autoren:

Hussam N. Fakhouri, Amjad Hudaib, Azzam Sleit
Wichtige Hinweise
Publisher's Note
Springer Nature remains neutral with regard to jurisdictional claims in published maps and institutional affiliations.
Abstract
This paper proposes an improved meta-heuristic algorithm called multivector particle swarm optimization (MVPSO) for solving single-objective optimization problems. MVPSO improves particle swarm optimization (PSO) algorithm by creating more possible solutions for each particle during the optimization process. It proposes a mathematical model and new position vectors for each particle that enhance the particle movement toward the global best value. This improvement emphasizes the exploration and exploitation of the particles in the search space during the optimization process. To test the performance of MVPSO, the algorithm is then benchmarked on 23 well-known test functions including unimodal, multimodal and fixed multimodal functions at different dimensions. These benchmark functions test the exploration, exploitation, local optima avoidance and convergence features of MVPSO. MVPSO has been compared to the state-of-the-art swarm optimization algorithms as well as PSO algorithm. Experimental results indicate that in terms of robustness, stability and quality of the solution obtained, MVPSO is better than original PSO algorithm, especially as the dimension increases. Further, it shows that a MVPSO based on the multivector mathematical model is competitive with the state-of-the-art swarm optimization algorithms. Moreover, the results of the tested benchmark functions, statistical analysis and performance metrics prove that the proposed algorithm is able to explore more solutions and regions in the search space, avoiding local optima points.