09.08.2020 | Ausgabe 3/2020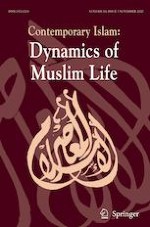 Murabitat al-Aqsa

: the new virgins of Palestinian resistance
Zeitschrift:
Autor:

Kenny Schmitt
Wichtige Hinweise
Publisher's note
Springer Nature remains neutral with regard to jurisdictional claims in published maps and institutional affiliations.
Abstract
In the fall of 2015, Israel outlawed the Murabitat, a group of Palestinian Muslim women using their voices and bodies to protect al-Aqsa Mosque from right-wing Jewish incursions into the sacred site. Israel placed blame on the Islamic Movement of Israel, but this explanation lacks substantially. I argue, instead, that the better way to interpret the Murabitat is by focusing on the Murabitat themselves—how they understood their actions and how those actions related to broader social, political, and religious currents within Palestinian society and the Israel-Palestine conflict. The Murabitat demonstrated both continuity and innovation within the field of Palestinian women's political participation in resistance toward the Israeli occupation. They framed their resistance in well-established, domestic and non-violent terms. But they also innovated by mobilizing these themes for the specific purpose of protecting the Haram al-Sharif. Drawing together the latent, symbolic resonance of
ribat
language within the discursive tradition of Islam, articulating their attachment to the sacred space through domestic metaphors, and using the phrase "Allahu Akbar" as a ritual of protest, the Murabitat forged new possibilities for women's participation in political struggle in Palestine. In short, they became the new virgins of the Palestinian resistance.