2019 | OriginalPaper | Buchkapitel
Mushrooms as a Biological Tool in Mycoremediation of Polluted Soils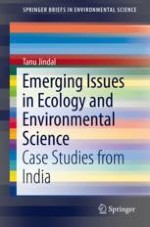 Erstes Kapitel lesen
Autor: Monika Thakur
Abstract
One of the major environmental problems faced by today's world is the contamination of soil, water, and air by toxic chemicals, and the distinct and unique role of microorganisms in the detoxification of polluted soil and environments is well recognized.
Fungal
mycelia have been primary governors for maintaining ecological equilibrium because they control the flow of
nutrients
. The strength and health of any ecosystem is a direct measure of its main components—the fungal populations and their interaction with other organisms such as plants, animals, and bacteria. Using fungi as the starter culture species in a
mycoremediation
project sets the stage for other organisms to participate in the rehabilitation process. The introduction of fungal mycelium into a polluted site triggers a flow of activity and begins to replenish the polluted ecosystem. Mycoremediation is an economically and environmentally sound alternative for bioremediation. It is not widely used at present, but this technology has wider potential than other technologies. Fungi perform a wide variety of functions in ecosystem and potentially have been proven to be clean, simple, and relatively inexpensive for environmental remediation. Examples of fungi used as mycoremediators are
Pleurotus ostreatus
; Rhizopus arrhizus; Phanerochaete chrysosporium and P. sordida;
and
Tramates hirsuta and T. versicolor; and Lentinus edodes and L. tigrinus. Thus, this clean technology has greater potential and its untapped potential has to be fully exploited.