2018 | OriginalPaper | Buchkapitel
49. Musical Systems of Sub-Saharan Africa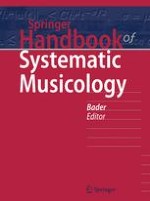 Erstes Kapitel lesen
Autor: Simha Arom
Verlag: Springer Berlin Heidelberg
Abstract
The following chapter is a brief overview of Sub-Saharan music traditions based on our current knowledge. It seeks to fill a gap that exists in the studies done thus far because, to the best of our knowledge, no inventory of the essential parameters that go into the constitution of this region's musical systems has been made. This is probably due to the fact that ethnomusicologists specializing in African music as well as many others give priority to the cultural or anthropological context in which music practices have a function, rather than considering the subject itself – music – as a system.
In light of this situation, and while I am aware of the weaknesses and imperfections such an approach will have difficulty avoiding, it nevertheless seems worthwhile to make an attempt.
This chapter is not intended to be exhaustive but is rather, beyond its specific content, an attempt to provide a tool for study that is easy to use and practical to all those who are interested in and curious about the
grammar
that underlies the Sub-Saharan African music traditions: scholars, teachers, students, not to mention those on the creative end, notably jazz musicians and composers, and more generally all people interested in music from beyond Europe and those interested in the
manufacturing
of African folk music.
In my mind, the value of this work extends beyond the text to include collections of references and the selective but very rich
bibliography
. These collections are divided into the following categories: general characteristics of African music, the acquisition of musical knowledge, taxonomy, scales, time organization, form and structure, variations, polyphonic techniques in general, hocket and polyrhythm. Each one lists authors whose work covers these categories. Readers can then consult the bibliography for further study of an author or subject presented in the text.