26.03.2018 | Energy materials | Ausgabe 13/2018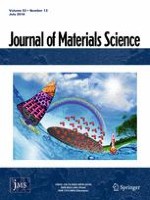 N

-cyanoethyl polyethylenimine as a water-soluble binder for LiFePO4 cathode in lithium-ion batteries
Zeitschrift:
Autoren:

Jinxin Huang, Jinglun Wang, Haoxiang Zhong, Lingzhi Zhang
Wichtige Hinweise
Electronic supplementary material
Abstract
N
-cyanoethyl polyethylenimine (CN-PEI) is synthesized by modifying polyethylenimine (PEI) with acrylonitrile through a Michael addition reaction. Depending on cyanoethylation level, CN-PEI can be obtained as a form of solution, micro-emulsion or emulsion in water. CN-PEI micro-emulsion is investigated as water-soluble binder for the application of lithium iron phosphate (LFP) cathode in lithium-ion batteries. CN-PEI binder not only maintains the outstanding dispersion capability of PEI but also exhibits an excellent adhesion strength and higher ionic conductivity because of the introduction of polar cyano groups. As a result, CN-PEI binder can effectively maintain the mechanical integrity and decrease the polarization of LFP electrode during the operation of the battery. LFP electrode with CN-PEI binder exhibits good cycle stability and enhanced rate performance delivering a capacity of 99.6% at a rate of 0.5 C after 100 cycles and a high discharge capacity of 102.4 mAh g
−1
at 5 C.