02.07.2018 | Energy materials | Ausgabe 20/2018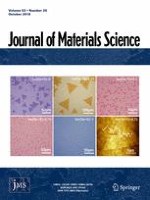 N-doped mesoporous carbon integrated on carbon cloth for flexible supercapacitors with remarkable performance
Zeitschrift:
Autoren:

Qian Zhang, Ni Wang, Peng Zhao, Mengqi Yao, Wencheng Hu
Wichtige Hinweise
Electronic supplementary material
Abstract
Nitrogen (N)-doped carbon cloth (NCC) was obtained by carbonizing polypyrrole coated on the CC to improve the specific surface area and introduce nitrogen functional groups. The surface area of the NCC was 147 m2 g−1, which was 16.7 times that of CC (8.8 m2 g−1). X-ray photoelectron spectroscopy demonstrated that two types of N dopants (pyrrolic-N and quaternary-N) were successfully doped in the NCC. The NCC had a high specific capacitance of 1.2 F cm−2 at 8 mA cm−2 as determined using a three-electrode system in 1 M Na2SO4. The asymmetric supercapacitor used with the NCC as negative electrode exhibited an energy density of 2.43 mWh cm−3 at 208 mW cm−3 with a voltage window of 2 V.