28.08.2019 | Energy materials | Ausgabe 23/2019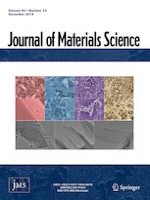 N,O-codoped 3D graphene fibers with densely arranged sharp edges as highly efficient electrocatalyst for oxygen reduction reaction
Zeitschrift:
Autoren:

Jie Zeng, Yongbiao Mu, Xixi Ji, Zijia Lin, Yanhong Lin, Yihui Ma, Zhongxing Zhang, Shuguang Wang, Zhonghua Ren, Jie Yu
Wichtige Hinweise
Electronic supplementary material
Jie Zeng and Yongbiao Mu have contributed equally to this work
Publisher's Note
Springer Nature remains neutral with regard to jurisdictional claims in published maps and institutional affiliations.
Abstract
To replace the noble-metal Pt catalysts for oxygen reduction reaction (ORR), developing efficient and earth-abundant electrocatalysts is of great importance. Both the morphology and composition engineering of graphene could effectively modify the electronic structure to optimize its electrocatalytic performance for ORR. Here, we report an effective method to dope carbon materials with N, by which the N doping concentration and form could be well controlled. We first grow 3D graphene fibers (3DGFs) by thermal chemical vapor deposition, which are then treated with acid or heated in air and heated in NH3 in succession, obtaining N,O-codoped 3DGFs. The codoped 3DGFs exhibit outstanding electrocatalytic performance toward ORR with onset potential of 1.01 V, half-wave potential of 0.883 V, long-term operation stability with 90% current retention after 50 h, and a good methanol tolerance in alkaline solutions, which are superior to 20 wt% Pt/C catalyst and other reported advanced metal-free catalysts. The excellent catalytic performance of the 3DGFs probably arises from the synergic effect of the morphology and composition engineering, e.g., the edges and doping, especially the pyridine N. The present work is expected to open up new approach to design outstanding metal-free carbon-based electrocatalysts for ORR.