2017 | OriginalPaper | Buchkapitel
4. Nano-Micro Polymeric Structures with Antimicrobial Activity in Solution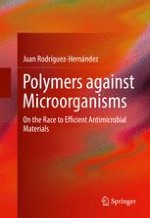 Erstes Kapitel lesen
Autor: Juan Rodríguez-Hernández
Abstract
Pioneer strategies to combat infectious diseases focused on the improvement of pharmacokinetics of the antibiotics by prolonging their blood circulation. These initial approaches permitted the antibiotic to reach difficult-to-target sites of infection and, as a consequence, to reduce dose frequency of antibiotics and more interestingly to reduce undesired rapid clearance of therapeutic agents. However, this strategy can only be accomplished in combination of the advancement of the appropriate techniques both in chemical synthesis and the understanding of macromolecular chemistry.
This chapter describes the alternatives to fabricate nanometer scale polymeric structures with antimicrobial properties. In particular, we will describe the different alternatives developed to produce efficient antimicrobial polymer nanostructures in solution.
Organic (based on polymers) or hybrid inorganic/organic nanostructures have peculiar properties that distinguish them from materials structured at the micro scale. In particular, their large surface area to volume ratio may enhance the interaction of the nanostructured material with a given microbe as a result of a larger number of functional sites. The most studied antimicrobial nanostructures in solution are nanoparticles and within nanoparticles those made of silver have been extensively explored.
Moreover, antimicrobial polymers and, in particular, the nanostructures resulting from the self-assembly processes in solution has been recently demonstrated to be of interest for different applications including animal and human health care. Of particular interest are those cases in which the polymers form self-assembled nanostructures with a large concentration of antimicrobial moieties. Moreover, these self-assembled structures are able to incorporate other additional antimicrobials such as silver nanoparticles.