06.06.2016 | Symposium: New Steels for Applications under Extreme Conditions | Ausgabe 11/2016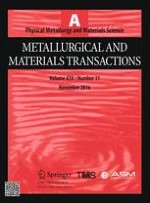 Nano-precipitation Strengthened G91 by Thermo-mechanical Treatment Optimization
Zeitschrift:
Autoren:

J. Vivas, C. Celada-Casero, D. San Martín, M. Serrano, E. Urones-Garrote, P. Adeva, M. M. Aranda, C. Capdevila
Wichtige Hinweise
Manuscript submitted February 19, 2016.
Abstract
The increase of thermal efficiency in power plants has been the main driving force to develop Ferritic/Martensitic steels for structural applications capable of operating at 923 K (650 °C) and higher. It has been clarified in previous works that nano-sized precipitates and its distribution are the key factors controlling the stability of the microstructure at high operating temperatures. Based on the science of precipitate strengthening, the aim of this work is to optimize the thermo-mechanical treatment in a commercial creep-resistant steel (G91) to achieve a microstructure where MX precipitates present a suitable size and distribution. The alternative processing route proposed here allows gaining an increase up to 40 pct in yield strength at 973 K (700 °C) compared to the commercial steel. The results of small punch test carried out at room temperature showed that the improvement in strength was obtained without loss of ductility. This fact was attributed to a finer and more homogeneous dispersion of MX precipitates in comparison to the commercial steel.