01.11.2017 | ORIGINAL PAPER | Ausgabe 12/2017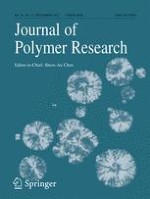 Nanocomposite carbon dots/PAM fluorescent hydrogels and their mechanical properties
Zeitschrift:
Autoren:

Yan-Qin Wang, Ya-Nan Xue, Shuang-Ran Li, Xue-Hui Zhang, Heng-Xiao Fei, Xiao-Gang Wu, Sheng-Bo Sang, Xiao-Na Li, Min Wei, Wei-Yi Chen
Wichtige Hinweise
Electronic supplementary material
Abstract
In this work, the bio-friendly fluorescence carbon dots (CDs) which being fabricated by using α-D-lactose as carbon sources were successfully entrapped into the polyacrylamide (PAM) networks by atom transfer radical polymerization (ATRP) method at 50°C, which indicated a simple and versatile approach for a novel CDs/PAM composite hydrogel with both excellent mechanical and fluorescence properties. The HRSEM images exhibited that the CDs/PAM hydrogels have intensive microporous structure and uniformly distributed pores. The tensile and compressive mechanical properties of the CDs/PAM hydrogels with different weight ratios of AM/water (25%~50%)、MBA/AM (0.036%~0.18%) and CDs/water (0.0%~2.0%) were investigated, respectively. The results showed that when the weight ratios of AM/water at 47.6%, MBA/AM at 0.072% and CDs/water at 0.67wt%, the hydrogels exhibited optimized fracture strength at 161.4kPa and fracture stretch at 842.1%. In addition, with increasing weight ratios of the CDs/water from 0.0% to 2.0%, the CDs/PAM composite hydrogels exhibited higher fluorescence intensities and brighter blue fluorescent emission under the UV light excitation (300 nm). The excellent mechanical and fluorescence properties mean that they could be used as potentially optical visualization cartilage replacement materials in biomedical engineering fields.