01.08.2014 | Original Paper | Ausgabe 4/2014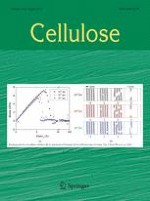 Nanocomposite films based on TEMPO-mediated oxidized bacterial cellulose and chitosan
Zeitschrift:
Autoren:

Chen Lai, Shujiang Zhang, Xuanchen Chen, Liyuan Sheng
Wichtige Hinweise
Shujiang Zhang contributed equally to the manuscript and is also a co-first author.
Abstract
Nanobacterial cellulose (BC) and chitosan (CH) have similar molecular structures. In the present work, nanocomposite films based on BC and CH were prepared by stepwise modification instead of by conventional physical blending. First, surface C6-carboxylated BC was prepared in a bromide-free system using 2,2,6,6-tetramethylpyperidine-1-oxyl (TEMPO) as a catalyst. The carboxylate groups of oxidised BC could couple to the amine groups of CH. The composite films were characterised by attenuated total reflectance Fourier transform infrared spectroscopy, X-ray photoelectron spectroscopy and Carbon-13 solid nuclear magnetic resonance 13C NMR. The results showed that a cross-linking reaction occurred between TEMPO-mediated oxidised BC and CH. Even in the absence of cross-linkers, these two biopolymers could interact with each other because of their structural similarity. SEM images and tensile tests showed that the TEMPO-oxidized BC and CH composite film prepared at a 0.5:1 ratio was an exception. The mechanical properties of the composite films decreased with increasing CH content, passed through a minimum, and then increased. To explain this phenomenon, we propose that the hydrogen bonding in the original BC microstructure plays a decisive role in the modified nanocomposites. However, BC/CH composites with excellent properties could be synthesised at appropriate reactant ratios.