01.06.2015 | Research Article | Ausgabe 1/2015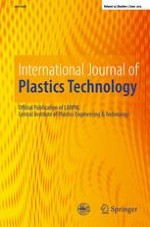 Nanocomposite membranes of poly(ethylene glycol) diamine cured DGEBA/poly(vinylidene fluoride) reinforced with poly(methyl methacrylate) coated gold nanoparticles
Zeitschrift:
Autor:

Ayesha Kausar
Abstract
The matrix material for hybrid membranes was prepared via curing of bisphenol A diglycidyl ether (DGEBA) with poly(ethylene glycol)diamine (DGEBA-
c
-PEGDA). The design of gold nanoparticles and poly(methyl methacrylate) coated gold nanoparticles (PMMA-AuNPs) as reinforcement was also considered. Morphology, size and distribution of PMMA-AuNPs were deliberated through transmission electron microscopy. The membranes of poly(vinylidene fluoride) (PVDF) and DGEBA loaded with PMMA-AuNPs were prepared by phase inversion method (DGEBA-
c
-PEGDA/PVDF/PMMA-AuNPs 0.1–1). Scanning electron microscopy was employed to study the fractured membrane surface and phase separated structure with nanopores were observed. The tensile strength was increased from 79.3 to 98.7 MPa when PMMA-AuNPs loading was increased from 0.1 to 1 wt.%. The glass transition temperature also improved with filler loading from 179 to 232°C. The membrane properties measured via membrane filtration set-up revealed increased pure water permeation flux, recovery and salt rejection for membrane with higher PMMA-AuNPs content. DGEBA-
c
-PEGDA/PVDF/PMMA-AuNPs membrane with 1 wt.% loading showed water flux of 50.2 mLcm
−2
min
−1
and salt rejection ratio of 88.8 %. Efficiency of the PMMA-AuNPs nanoparticles reinforced membranes for the removal of heavy metal ions was found to be 99 %.