2008 | OriginalPaper | Buchkapitel
16. Nanoindentation: Localized Probes of Mechanical Behavior of Materials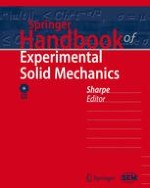 Erstes Kapitel lesen
Autoren: Prof. David F. Bahr, Ph.D Dylan J. Morris
Verlag: Springer US
Abstract
This chapter focuses on mechanical probes of small volumes of materials using contact based testing methods performed on instruments designed to measure mechanical properties, rather than those which are inherently developed for scanning probe microscopy. Section
16.1
consists of basic information used in the measurement of localized mechanical properties and provides a brief review of engineering hardness testing, followed in Sect.
16.2
by a discussion of the basis for instrumented indentation testing to determine elastic and plastic properties of the material being tested: the common modulus and hardness techniques. More advanced methods for using localized probes beyond determining basic elastic and plastic properties, including developments in the analysis of the deformation zone around indentations and the resulting information that can be garnered from this information, are covered in Sect.
16.3
. Methodologies that are used to estimate other mechanical properties such as fracture, are covered in Sect.
16.4
, which focuses on bringing instrumented indentation testing into realms similar to current macroscopic mechanical testing. Finally, the chapter concludes in Sect.
16.5
with methods that use nanoscale indentation testing to determine more fundamental properties, such as the onset of dislocation activity, size-dependent mechanisms of deformation, and activation volumes.