2018 | OriginalPaper | Buchkapitel
6. Nanomaterials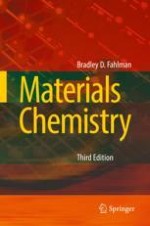 Erstes Kapitel lesen
Autor: Bradley D. Fahlman
Verlag: Springer Netherlands
Abstract
Imagine how much control over resultant properties you would have if you were able to deposit and maneuver individual atoms into predefined arrangements,
en route
toward a new material. This is fast becoming a reality, and is the realization of the ultimate in "bottom-up" materials design. Thus far, one is able to easily fabricate materials comprised of a small number of atoms, with features on the nanometer scale (10
−9
m)—one-billionth of a meter. To put this into perspective, think of a material with dimensions approximately 1000 times smaller than the diameter of a human hair follicle!