2007 | OriginalPaper | Buchkapitel
12. Nanometer-Scale Thermoelectric Materials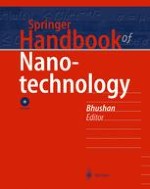 Erstes Kapitel lesen
Autor: Prof. Joseph Heremans
Verlag: Springer Berlin Heidelberg
Abstract
The thermal and electrical transport properties of solids are strongly affected by a system's dimensionality. While many other reviews deal with the electrical conductivity of nanowires, nanotubes, and solids that include quantum dots, we concentrate here on their thermal and thermoelectric properties. Not only is this of fundamental scientific interest, but nanometer-scaled solids also hold the promise of leading to a breakthrough in thermoelectric technology.
The theory of transport properties essentially derives from Boltzmann's theory: the amount of charge or heat transported in a solid is given by the amount carried by each individual electron or phonon, times the flux of those particles. This latter quantity depends on the density of particles—and thus on the density of available states—and on their group velocity, which is limited by their mass and the scattering mechanisms. The dimensionality affects both the density of states and the scattering mechanisms.
As far as practical applications are concerned, it has recently been experimentally demonstrated that the thermoelectric efficiency of superlattices and of superlattices containing quantum dots can be double that of conventional solids. In three-dimensional solids, the three quantities that determine the efficiency, the electrical and thermal conductivities and the Seebeck coefficient are related and must be optimized as a group. The dimensionality of the system adds an independent variable that favorably modifies this relation and thus enables a more refined optimization.