11.12.2017 | Biomaterials | Ausgabe 6/2018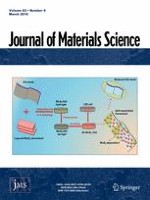 Nanostructural changes in bamboo cell walls with aging and their possible effects on mechanical properties
Zeitschrift:
Autoren:

Yoko Okahisa, Keisuke Kojiro, Tomoaki Kiryu, Takahiro Oki, Yuzo Furuta, Chizuru Hongo
Abstract
In Asian countries, only bamboo culms that are 3–5 years old are used especially as materials because of their toughness, pliability, and/or workability. In this study, we evaluated the mechanical properties of bamboo in correlation with age-dependent changes in the nanostructures of cell walls, such as microfibril angles (MFAs), crystallite sizes, and crystallinity. Current year and 1.5-, 3.5-, 4.5-, 6.5-, and 8.5-year-old
Phyllostachys pubescens
samples were used. Three-point bending tests and wide-angle X-ray scattering experiments were conducted. The specific bending of Young's modulus and the specific bending strength of 3.5- and 4.5-year-old bamboo samples were greater than those of other ages. The MFAs decreased in 1.5-year-old bamboo, were constant until samples were 6.5-years old, and then increased slightly in 8.5-year-old bamboo. The widths of crystallites appeared to be constant for all ages, while the lengths of crystallites and crystallinity showed age-dependent differences only on the inner side. In this study, the MFA was negatively correlated with the toughness of bamboo culms. This result should be considered with other structural features at the tissue level; however, the age-related changes in MFA values appear to be important factors related to the mechanical properties of bamboo.