21.01.2021 | Energy materials | Ausgabe 13/2021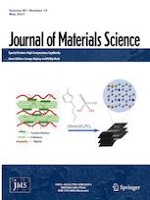 Nanostructured tubular carbon materials doped with cobalt as electrocatalyst for efficient oxygen reduction reaction
Zeitschrift:
Autoren:

Zhaoqi Zhu, Jingxin Han, Jie Cui, Peilei Zhou, Zifeng Yang, Hanxue Sun, An Li
Wichtige Hinweise
Handling Editor: Dale Huber.
Publisher's Note
Springer Nature remains neutral with regard to jurisdictional claims in published maps and institutional affiliations.
Abstract
The development of non-precious metal catalysts with high efficiency and superior reaction durability for oxygen reduction reaction (ORR) is of great importance for construction of next-generation fuel cells. Herein, we report the preparation of in-situ nitrogen-doped carbon nanotube electrocatalysts (PPy-NCNTs) which were prepared by the pyrolysis of one-dimensional nanotube-like polypyrrole conjugated polymers precursor (PPy-Tubes) synthesized by oxidative polymerization and self-assembly method. The as-prepared PPy-NCNTs show good ORR performance, e.g., its half-wave potential reaches 0.826 V. In order to further improve the ORR performance of PPy-NCNTs, we prepared the Co-N co-doped carbon nanotube materials (Co-N-PPy-NCNTs) with different Co contents by adding cobalt nitrate into the polymerization solution during synthesis of PPy nanotube followed by a pyrolysis treatment. Comparatively, the Co-N-PPy-NCNTs have better ORR performance than that of PPy-NCNTs with a half-wave potential of 0.830 V, a biased 4e− reaction pathway, and better stability and methanol tolerance (high than Pt/C catalysts in the methanol tolerance test and the durability test). Taking advantages of its simple and cost-efficient preparation, high ORR performance and superior stability and methanol tolerance, the Co-N-PPy-NCNTs should be a kind of ideal candidate as an alternative to the precious metal platinum-based catalysts for fuel cells.