2019 | OriginalPaper | Buchkapitel
2. Narcissus and Selfhood:
The
Lay of Narcissus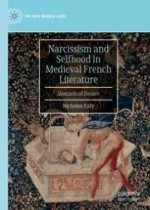 Erstes Kapitel lesen
Autor: Nicholas Ealy
Abstract
This chapter treats narcissism and selfhood in the
Lay of Narcissus
(c. 1160). Analyzing the prophecy given to Narcissus (that he will live to old age provided he does not see himself), the chapter examines the link between seeing a reflection and the truth that such a reflection is the "self." Dané, in love with Narcissus, provides an exploration of desire's visual properties as inside (personalized longing) and outside (a force that overtakes) the human subject. An analysis of Narcissus's encounter with his reflection provides a discussion of his exclamation "je me plaing" (I lament myself), marking his selfhood as wounded by unfulfillable desires. The chapter concludes by examining how vision cannot lead to truth and how love is an undeniable imperative for human subjects.