2012 | OriginalPaper | Buchkapitel
1. National Security and Human Health Implications of Climate Change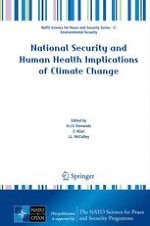 Autor: Ph.D. Marcus DuBois King
Verlag: Springer Netherlands
Jetzt einloggen
Abstract
The first section of the paper presents key findings from the 2007 report,
National Security and the Threat of Climate Change
by the CNA Corporation, including that projected climate change: (1) Poses a serious threat to U.S. National Security; (2) Acts as a threat multiplier for instability in some of the most volatile regions in the world and; (3) Adds tensions even in stable regions of the world. In the second section I summarize work conducted by myself and Dr. Ralph Espach at CNA that identifies exactly which countries are most relevant to the CNA Military Advisory Board's original findings. By compiling data from a variety of sources, we identify the states most exposed to the impacts of climate change both in the short and long term. The next section introduces estimates of the resilience of these countries, and combines our evaluation of country exposure and expected resilience to create a 3-tiered ranking of countries most vulnerable to political and/or humanitarian crises as a result of climate impacts.