2016 | OriginalPaper | Buchkapitel
12. Natural Language Processing for Understanding Contraceptive Use at the VA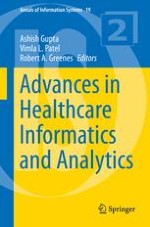 Erstes Kapitel lesen
Autoren: Matthew Scotch, Cynthia Brandt, Sylvia Leung, Julie Womack
Abstract
Objective
: To evaluate the potential of Natural Language Processing (NLP) for understanding contraceptive use among female Veterans seeking care at Veterans Administration (VA) healthcare facilities.
Design
: Retrospective chart review of a subset of female Veterans enrolled in the Women Veterans Cohort Study (WVCS) who sought care at the VA Connecticut Healthcare facility (in West Haven, CT) in 2009 and completed a survey that included self-reported contraceptive use. In addition, only notes that were annotated for contraceptive use from a prior study that included 227 patients WVCS participants were selected.
Methods
: A biomedical ontology of contraceptive terms and concepts was created that included both permanent methods (e.g. hysterectomy) as well as non-permanent methods (e.g. oral contraceptives). The new ontology, along with a section of the VA's National Drug File was used as the knowledge base for information extraction from the free-text medical records. Included were 208 annotated notes across 39 patients. The General Architecture for Text Engineering (GATE), an open-source application for development of NLP pipelines was used. The ontology was added to GATE along with a processing resource that was developed in order to create an ontology-aware information extraction plugin for the pipeline. In addition, prior resources developed for negation of concepts (
e.g.
The patient
denies
using a emergency contraceptive) were utilized.
The NLP pipeline extracted contraceptives currently used by the patient, ones not currently used (prior use or recommended use by the clinician), or whose use was negated. A Boolean matrix of concepts by each patient was produced for input into a decision tree classifier. Tenfold cross validation created iterations of training and testing sets to estimate active versus inactive contraceptive. Responses to self-reported contraceptive use on the prior survey were used as the gold standard.
Results
: The use of manual annotation, development of a biomedical ontology, and creation of a natural language processing pipeline achieved high precision (0.83) and recall (0.84). The weighted F-measure was 0.83.
Conclusion
: Our combined approach utilized annotation of concepts, a biomedical ontology of contraceptives, and a natural language processing pipeline for information extraction. Our results highlight the potential for biomedical informatics to support research of contraceptive use among female Veterans at the VA. Additional research needs to be done that evaluates the accuracy of contraceptive information in the VA's Electronic Health Record (EHR) with the consideration of both free text and semi-structured data such as pharmacy records.