12.04.2018 | Ausgabe 1/2018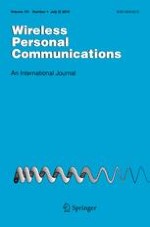 Nature Inspired Algorithm-Based Improved Variants of DV-Hop Algorithm for Randomly Deployed 2D and 3D Wireless Sensor Networks
Zeitschrift:
Autoren:

Amanpreet Kaur, Padam Kumar, Govind P. Gupta
Abstract
Localization is a significant challenge in the area of wireless sensor networks (
WSNs
). Distance Vector Hop (
DV
-
Hop
) algorithm is most preferable algorithm due to its low cost, distributed nature, and its feasibility for all kinds of sensor networks, but it suffers from high localization error. In order to reduce the problem of high localization error for 2-dimensional and 3-dimensional WSNs, two Nature Inspired Algorithm based improved variants have been proposed. The first one uses Grey-Wolf optimization (
GWO
-
DV
-
Hop
) to identify a better estimate of average distance per hop and second one, a weighted Grey-Wolf optimization (
Weighted GWO
-
DV
-
Hop
), finds average distance per hop as computed by each beacon node using grey wolf algorithm and then, a weighted approach is applied by each node to get weighted average distance per hop (weights based on distance from each beacon) so as to consider impact of all types of beacons. The results prove the superiority of proposed algorithms over traditional DV-Hop in terms of localization error.