19.11.2016 | Ausgabe 5/2017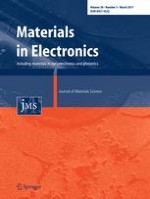 Nb-doped BaTiO3–(Na1/4Bi3/4)(Mg1/4Ti3/4)O3 ceramics with X9R high-temperature stable dielectric properties
Autoren:

Xuechen Huang, Wenqin Zhang, Juan Xie, Qi Xu, Lin Zhang, Hua Hao, Hanxing Liu, Minghe Cao
Abstract
Nb
2
O
5
doped 0.8BaTiO
3
–0.2(Na
1/4
Bi
3/4
)(Mg
1/4
Ti
3/4
)O
3
(0.8BT–0.2NBMT) polycrystalline ceramics were prepared by solid state reaction method. 0.8BT–0.2NBMT samples were observed to possess two dielectric peaks, which were attributed to the formation of core–shell structure (Huang et al. in J Eur Ceram Soc 36:533–540,
2015
). Longer sintering induced uniform distributions of the additives. The introduction of Nb
2
O
5
into 0.8BT–0.2NBMT could obviously bring about the improvement of the dielectric temperature stability, the degradation of the dielectric loss at room temperature and the decrease of the sintering temperature. The 0.8BT–0.2NBMT ceramics doped with 2.0 at% Nb
2
O
5
could satisfy the temperature range of the X9R (−55 to 200 °C, △C/C
25°C
= ±15% or less) characteristics, with a moderate dielectric constant of 1130, low dielectric loss of 0.7%, low sintering temperature of 1050 °C and insulation resistivity of 5 × 10
12
Ω cm at room temperature, which might be promising for practical use in multilayer ceramic capacitors. The inhomogeneous distribution and the existence of the secondary phases were responsible for this excellent dielectric temperature characteristic. The complex impedance analysis was introduced to elaborate the conduction mechanism.