01.08.2014 | Research Article | Ausgabe 8/2014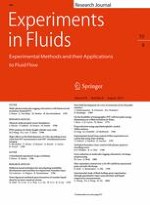 Near-field development of a row of round jets at low Reynolds numbers
Zeitschrift:
Autoren:

Shahriar Ghahremanian, Klas Svensson, Mark J. Tummers, Bahram Moshfegh
Abstract
This article reports on an experimental investigation of the near-field behavior of interacting jets at low Reynolds numbers (
Re
= 2125, 3290 and 4555). Two measurement techniques, particle image velocimetry (PIV) and laser Doppler anemometry (LDA), were employed to measure mean velocity and turbulence statistics in the near field of a row of six parallel coplanar round jets with equidistant spacing. The overall results from PIV and LDA measurements show good agreement, although LDA enabled more accurate measurements in the thin shear layers very close to the nozzle exit. The evolution of all six coplanar jets showed initial, merging, and combined regions. While the length of the potential core and the maximum velocity in the merging region are Reynolds number-dependent, the location of the merging points and the minimum velocity between jets were found to be independent of Reynolds number. Side jets at the edges of the coplanar row showed a constant decay rate of maximum velocity after their core region, which is comparable to a single round jet. Jets closer to the center of the row showed reducing velocity decay in the merging region, which led to a higher maximum velocity compared to a single round jet. A comparison with the flow for an in-line array of 6 × 6 round jets showed that the inward bending of streamwise velocity, which exists in the near field of the 6 × 6 jet array, does not occur in the single row of coplanar jets, although both setups have identical nozzle shape, spacing, and Reynolds number.