04.10.2019 | Technical Paper | Ausgabe 4/2020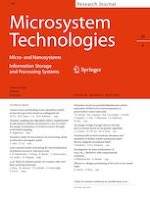 Negative bias temperature instability (NBTI) effects on p-Si/n-InGaAs hybrid CMOSFETs for digital applications
Zeitschrift:
Autoren:

Suchismita De, Suchismita Tewari, Abhijit Biswas
Wichtige Hinweise
Publisher's Note
Springer Nature remains neutral with regard to jurisdictional claims in published maps and institutional affiliations.
Abstract
This paper reports, for the first time, the influence of pMOS-negative-bias-temperature-instability (pMOS-NBTI) on the logic performance degradation of a hybrid CMOS inverter, comprising Si pMOS and In0.70Ga0.30As nMOS device, followed by a three-stage-ring-oscillator. The logic performance of an inverter is investigated in terms of high noise margin (NMH), rise time (tr), delay (td), and that for oscillators with reference to frequency of oscillations (fosc). Obtained results show percentage degradation values of 15.38%, 42.90%, 34.09%, and 23.44% for NMH, tr, td, and fosc, respectively, for a stress time of 10 s. It is also found that the oscillation frequency of the ring oscillator degrades ~ 30% for the stress time of 10,000 s compared to without NBTI value.