2019 | OriginalPaper | Buchkapitel
Neotectonics of the Hollywood Fault, Central Hollywood District, Los Angeles, California, U.S.A.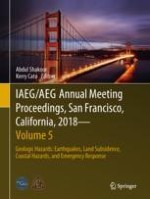 Erstes Kapitel lesen
Autoren: Steven H. Kolthoff, Michael F. Mills, Roy J. Shlemon
Abstract
We present new data and analyses indicating that the inferred "active" Hollywood Fault is not mainly left-lateral, strike slip, as previously postulated, but rather, as now shown for the Central Hollywood District of Los Angeles, is driven mainly by crustal shortening indicated by uplift of the adjacent Santa Monica Mountains, by presence of the Hollywood Syncline and by the asymmetric (south verging), newly discovered "Yucca Street Anticline." This crustal shortening follows a regional structural fabric developing since at least Miocene time. Evidence stems from interpretation of historic earthquake moment-tensor solutions, from regional GPS plate velocity data, and from new, site-specific engineering-geological trench exposures and related subsurface investigations. The California Geological Survey (CGS) concluded that the Hollywood Fault is "active" (surface or near-surface displacement within about the late 11,500 years). Likewise, adopted by City of Los Angeles regulations, the inferred active fault mandated site-specific, neotectonic and paleoseismic investigations for proposed construction of several sub-adjacent high-rise tower buildings. Based on exposures in approximately ~213 m long and up to 10 m deep trenches, on advancement and interpretation of 100+ cone penetrometer tests (CPT), and on excavation and collection of over 304 m of continuous cores, we conclude that—at least in the Central Hollywood area—the presumed Hollywood Fault is not an active, mainly strike-slip fault but rather is structurally expressed by several near-surface folds indicative of compression normal to the inferred trace. Inherently, therefore, any assumed "active" Hollywood Fault in the Central Hollywood area of Los Angeles may trend outside the study area, may have slip taken up in contemporary folding, or—though less likely—be obscured by thick wedges of Holocene alluvium.