2015 | OriginalPaper | Buchkapitel
3. Network Analysis of Production and Its Renewal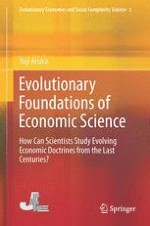 Erstes Kapitel lesen
Autor: Yuji Aruka
Verlag: Springer Japan
Abstract
Without positioning a production system, it is impossible to imagine any economic doctrine. During recent years, however, many economists have been very reluctant to use actual observations on the structure of production systems and heterogeneous interactions among production processes, i.e., inter-industrial analysis, and commit to a positive picture of production in society. Instead, they have focused on a particular idea of the production function, where the aggregate level is very similar to the microscopic one.
The representative agent
is ubiquitous in standard economics, across the globe and historically. As Robert C. Allen (2011) noted, some economists do not hesitate to subordinate even human history into a special production function. They stress behavioral decisions by game theoretic analysis to dispense with productive structural analysis. In this chapter, we will examine the meaning of a price system based on the production system in the sense of classical economic doctrines, and will then give a new network analysis of production and consider its empirical application to the Japanese economy over recent years.