01.10.2016 | Ausgabe 3/2016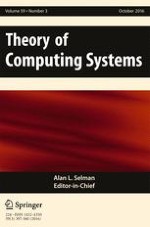 Network Formation for Asymmetric Players and Bilateral Contracting
Zeitschrift:
Autoren:

Carme Àlvarez, Maria Serna, Aleix Fernàndez
Wichtige Hinweise
Work partially supported by funds from the Spanish Ministry for Economy and Competitiveness (MINECO) and the European Union (FEDER funds) under grant TIN2013-46181-C02-1-R (COMMAS) and from AGAUR, Generalitat de Catalunya, under grant SGR 2014:1034 (ALBCOM).
Abstract
We study a network formation game where players wish to send traffic to other players. Players can be seen as nodes of an undirected graph whose edges are defined by contracts between the corresponding players. Each player can contract bilaterally with others to form bidirectional links or break unilaterally contracts to eliminate the corresponding links. Our model is an extension of the traffic routing model considered in Arcaute, E., Johari, R., Mannor, S., (IEEE Trans. Automat. Contr.
54
(8), 1765–1778
2009
) in which we do not require the traffic to be uniform and all-to-all. Player
i
specifies the amount of traffic
t
i
j
≥ 0 that wants to send to player
j
. Our notion of stability is the network pairwise Nash stability, when no node wishes to deviate unilaterally and no pair of nodes can obtain benefit from deviating bilaterally. We show a characterization of the topologies that are pairwise Nash stable for a given traffic matrix. We prove that the best response problem is NP-hard and devise a myopic dynamics so that the deviation of the active node can be computed in polynomial time. We show the convergence of the dynamics to pairwise Nash configurations, when the contracting functions are anti-symmetric and affine, and that the expected convergence time is polynomial in the number of nodes when the node activation process is uniform.