03.01.2021 | Ausgabe 3/2021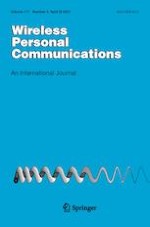 Network Planning in Deep Fading Area is a Research Challenge
Zeitschrift:
Autoren:

Satyendra Sharma, Brahmjit Singh
Wichtige Hinweise
Publisher's Note
Springer Nature remains neutral with regard to jurisdictional claims in published maps and institutional affiliations.
Abstract
A modified path loss prediction model for deep fading area is presented and compared with standard indoor path loss model. An academician perspective, it may not be feasible to design a network for its maximum capacity & coverage under deep fading environment. The above facts reveals us to carry out real time analysis of network using advance set up and predict minimum detectable signal in deep fading area. In this paper, monitoring of signal at different frequency and power under deep fading condition is carried out to check and access the reality of signal variation. The temporal variation of signal is recorded continuously to check the minimum availability of signalfor mathematical analysis. The statistical analysis on recorded data provides large variation in standard deviation (13.16 to 17.25 dB) and the path loss exponent tends to a new value of 4.8. The received signal strength for LTE network goes beyond − 74 to − 103 dBm.Path loss at different frequency, power and distance is calculated using ITU model, Log Distance model and new model is proposed for fading area. The large variation in path loss (9 to 283 dB) for different networks is plotted for fading area under study.The improvement of signal strength was observed slightly by 10 dBm when base station antenna was down tilted by − 20. The change in signal strength after down tilting the antenna is also recorded and presented. Such small increment in signal strength may allow network to provide better connectivity in fading area with good quality of service (QoS).