2017 | OriginalPaper | Buchkapitel
Neural Network Overtopping Predictor Proof of Concept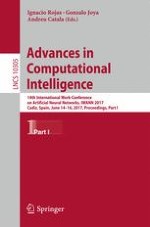 Erstes Kapitel lesen
Autoren: Alberto Alvarellos, Enrique Peña, Andrés Figuero, José Sande, Juan Rabuñal
Abstract
Wave overtopping is a dangerous phenomenon. When it occurs in a commercial port environment, the best case scenario will be the disruption of activities and even this best case scenario has a negative financial repercussion.
Being in disposal of a system that predicts overtopping events would provide valuable information, allowing the minimization of the impact of overtopping: the financial impact, the property damage or even physical harm to port workers.
We designed an overtopping predictor and implemented a proof of concept based on neural networks. To carry out the proof of concept of the system, we created a series of tests in a scaled breakwater physical model, placed on a wave basin. We used a multidirectional wavemaker and video cameras to identify the overtopping events. Using all of the collected data we trained a neural network model that predicts an overtopping based on the simulated sea state.
Once the validity of this approach is determined, we propose the real system design and the resources needed for its implementation.