16.12.2019 | Ausgabe 2/2020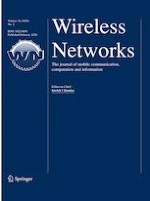 New approach of multi-path reliable transmission for marginal wireless sensor network
Zeitschrift:
Autoren:

De-gan Zhang, Hao Wu, Peng-zhen Zhao, Xiao-huan Liu, Yu-ya Cui, Lu Chen, Ting Zhang
Wichtige Hinweise
Publisher's Note
Springer Nature remains neutral with regard to jurisdictional claims in published maps and institutional affiliations.
Abstract
In the application environment having dense distribution of marginal wireless sensor network (WSN), the data transmission process will generate a large number of conflicts, which will result in loss of transmission data and increase of transmission delay. The multi-path data transmission method can effectively solve the problem of large data loss and transmission delay caused by collisions. A new approach of multi-path reliable transmission for application of marginal WSN (named RCB-MRT) is proposed in this paper. It adopts redundancy mechanism to realize the reliability of data transmission, and uses concurrent woven multi-path technology to improve the transmission efficiency of data packets. Firstly, it divides the data packets that the sensor node needs to transmit into several sub-packets with data redundancy, and then forwards the sub-packets to the aggregation node through multi-path by the intermediate nodes of marginal environment. The results of our experimental tests show that the proposed multi-path reliable transmission method can effectively reduce data packet loss rate, reduce transmission delay and increase network lifetime. The method is very useful for the applications of marginal wireless sensor network.