01.10.2019 | Cover Story | Ausgabe 10/2019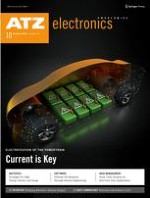 "New business models are needed for significantly reducing battery costs"
Zeitschrift:
100 euros per kWh: This figure, accepted by all OEMS as the maximum price for battery cells, has been finally achieved. And now it is set to increase again by 15 %? Dr. Wolfgang Bernhart, Senior Partner at Roland Berger, will explain the reasons why this trend will emerge at the 2
nd
International ATZ Congress Electrified Mobility in November 2019. In the interview with ATZelectronics, he provides several details and makes the case for new business models within the scope of "Electric Mobility Profitability Check", one of the key topics at the congress in Mannheim (Germany).
×
...