14.08.2015 | Original Paper | Ausgabe 4/2016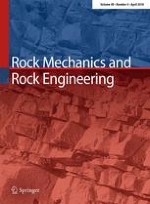 New Criterion for Evaluating the Peak Shear Strength of Rock Joints Under Different Contact States
Zeitschrift:
Autoren:

Zhi Cheng Tang, Louis Ngai Yuen Wong
Wichtige Hinweise
L. N. Y. Wong was formerly at School of Civil and Environmental Engineering, Nanyang Technological University.
Abstract
In practice, the peak shear strength of rock joints is not dictated only by the surface roughness, but also the degree of matching between the joint surfaces. The latter is due to alteration/dislocation caused by external factors, such as the vibration due to nearby blasting, excavation or earthquake. In the present study, the peak shear strengths of rock joints under different contact states are investigated by direct shear test using artificial rock joints. The rock joints under different contact states are modeled by imposing varying magnitude of horizontal dislocation along the shear direction between the upper and lower rock blocks. The peak shear strength was found to decrease with increasing dislocation. A new empirical shear strength criterion is put forward to capture the peak shear strength of un-matching rock joints as an extension of a previously published peak shear strength criterion for matching rock joints by the first author and his co-workers. In the present proposed criterion, a new joint contact state coefficient, which is a function of the normalized dislocation and the quantified three-dimensional roughness metric of joint surface, is proposed. The good agreement between calculated values and test results indicates that the proposed criterion is capable of estimating the peak shear strength of rock joints under different contact states. The proposed criterion is expressed in a quantitative way and the required parameters can be easily determined in the laboratory.