19.02.2020 | Methodologies and Application | Ausgabe 17/2020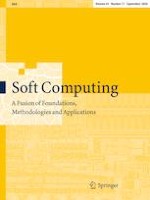 New method for interval-valued hesitant fuzzy decision making based on preference relations
Zeitschrift:
Autoren:

Jie Tang, Fanyong Meng
Wichtige Hinweise
Publisher's Note
Springer Nature remains neutral with regard to jurisdictional claims in published maps and institutional affiliations.
Abstract
Interval-valued hesitant fuzzy preference relations (IVHFPRs) are powerful to express the judgments of decision makers (DMs) such as hesitancy and uncertainty. This paper continues to research decision making with IVHFPRs. To do this, it first defines a multiplicative consistency index for interval fuzzy preference relations (IFPRs). Then, it gives a new (acceptably) multiplicative consistency concept for IVHFPRs. After that, optimization models for judging the acceptably multiplicative consistency of IVHFPRs are built. When the multiplicative consistency is unacceptable, optimization models for improving the multiplicative consistency level and for minimizing the number of adjusted judgments are constructed, respectively. Based on the acceptably multiplicative consistency analysis, an algorithm for decision making with IVHFPRs is presented. Furthermore, formulae for determining the weights of the DMs and for measuring the consensus are offered. Based on the acceptably multiplicative consistency and consensus analysis, a new method for group decision making with IVHFPRs is proposed. Finally, an example about selecting the reservoir operation schemes is offered to show the efficiency of the new method and to compare with previous research.