01.07.2013 | Ausgabe 1/2013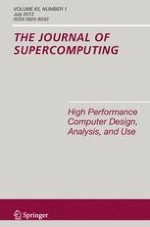 New methods of secure outsourcing of scientific computations
Zeitschrift:
Autor:

Yerzhan N. Seitkulov
Abstract
In this paper, we present several methods of secure outsourcing of numerical and scientific computations. Current outsourcing techniques are inspired by the numerous problems in computational mathematics, where a solution is obtained in the form of an approximation. Examples of such problems can be found in the fields of economics, military, petroleum industry, and in other areas. Many of today's scientific and numerical problems require large computational resources; therefore, they can only be solved on supercomputers or by using the capabilities of the largest computing systems, such as grid technology, cloud, etc. We believe that it is imperative to improve the mathematical framework to enable secure outsourcing. Therefore, the main goal of this paper is to present different
methods
of finding approximate solutions to some equations solved by an external computer. To accomplish this, we chose certain classes of algebraic and differential equations because, in most cases, modern computing problems are reduced to solving such systems of equations (differential equations, linear programming, etc.). As an important application example we are presenting a specific applied problem related to geological exploration.