14.05.2020 | Metallurgical and Materials Transactions 50th Anniversary Collection | Ausgabe 7/2020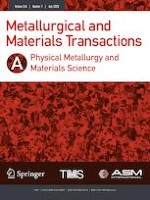 New Opportunities in Refractory Alloys
Zeitschrift:
Autoren:

N. R. Philips, M. Carl, N. J. Cunningham
Wichtige Hinweise
Manuscript submitted on January 10, 2020.
Publisher's Note
Springer Nature remains neutral with regard to jurisdictional claims in published maps and institutional affiliations.
Abstract
For decades, the promise of refractory alloys (robust structural materials for use above 1500 K (1200 °C)) has been hampered by concurrent requirements for fabricability
via
ingot metallurgy and oxidation resistance. These constraints have thus far proven impossible to meet in a single material. The work herein demonstrates that the advent of economical powder feedstocks and consolidation methods, such as additive manufacturing (AM), effectively removes the constraints preventing widespread utilization of high-strength refractory alloys into aerospace, defense, and space access applications. High-purity, spherical refractory-alloy powders (
e.g.
the Nb-10Hf-1Ti alloy ATI C103™) were made
via
both atomization and plasma spheroidization and consolidated using a variety of methods. Consolidated material shows comparable and sometimes superior high temperature performance to equivalent wrought material. The availability of cost-effective powder synthesis techniques enables the elimination of critical barriers in fabrication: namely the requirement for hot and cold working. The availability of AM and hot isostatic pressing expands the design space for high-strength refractory alloys and makes the adoption of new paradigms in alloy design, such as refractory complex concentrated alloys, plausible. Going forward, the most difficult challenge, oxidation, can be tackled with the new approaches that are now available.