01.10.2016 | Ausgabe 4/2016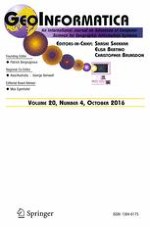 New plane-sweep algorithms for distance-based join queries in spatial databases
Zeitschrift:
Autoren:

George Roumelis, Antonio Corral, Michael Vassilakopoulos, Yannis Manolopoulos
Abstract
Efficient and effective processing of the
distance-based join query
(DJQ) is of great importance in spatial databases due to the wide area of applications that may address such queries (mapping, urban planning, transportation planning, resource management, etc.). The most representative and studied DJQs are the
K
Closest Pairs Query (
K
CPQ) and
ε
Distance Join Query (
ε
DJQ). These spatial queries involve two spatial data sets and a distance function to measure the degree of closeness, along with a given number of pairs in the final result (
K
) or a distance threshold (
ε
). In this paper, we propose four new plane-sweep-based algorithms for
K
CPQs and their extensions for
ε
DJQs in the context of spatial databases, without the use of an index for any of the two disk-resident data sets (since, building and using indexes is not always in favor of processing performance). They employ a combination of
plane-sweep
algorithms and space partitioning techniques to join the data sets. Finally, we present results of an extensive experimental study, that compares the efficiency and effectiveness of the proposed algorithms for
K
CPQs and
ε
DJQs. This performance study, conducted on medium and big spatial data sets (real and synthetic) validates that the proposed plane-sweep-based algorithms are very promising in terms of both efficient and effective measures, when neither inputs are indexed. Moreover, the best of the new algorithms is experimentally compared to the best algorithm that is based on the R-tree (a widely accepted access method), for
K
CPQs and
ε
DJQs, using the same data sets. This comparison shows that the new algorithms outperform R-tree based algorithms, in most cases.